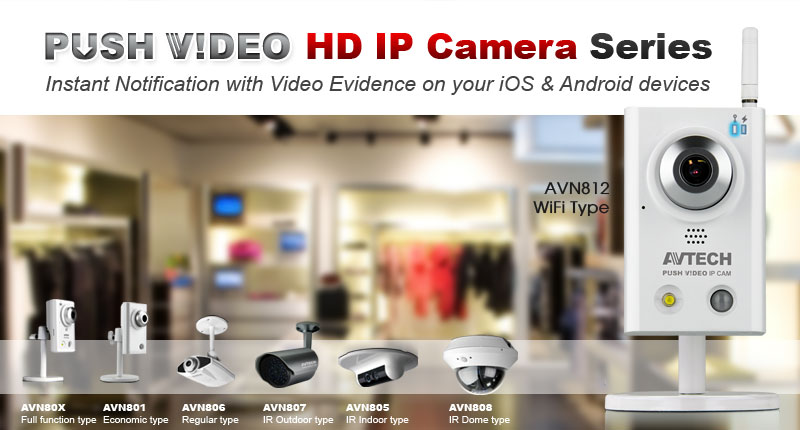 What is Push Video?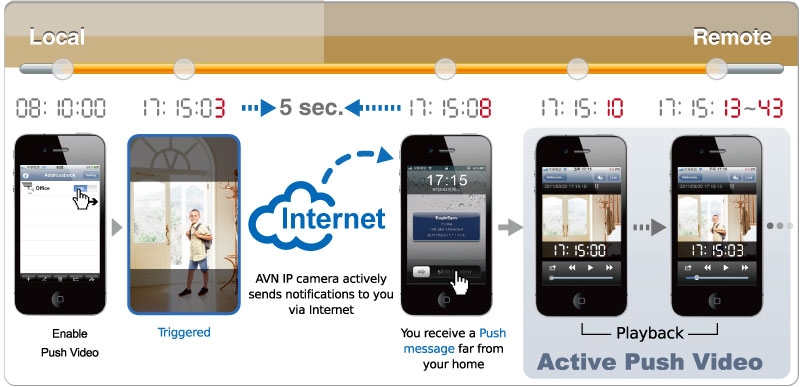 Why is Push Video superior than Email/ SMS notification?


Complete EagleEyes Support

Easy Setup
Within a few clicks, EagleEyes will find the camera, finish IP configuration, forward ports, register a free AVTECH DDNS all automatically.
Configuration
Once users want to change any configuration, they won't have to find a PC but to use smartphone to make it.
Push Video
The camera instantly sends you a Push Notification which will playback a short recording of what it captured when detecting events.
Evidence Backup
Each Push Video playback will be saved inside your smartphone as evidence. You can also store any clip you want for backup.


Design Unique Solution for Your Customers
Combining external alarm devices with Push Video, you can offer many more unique solutions on your own.


Case 1: Entrance
Whether you are at home or not, you will know who rings the bell at door and decide if you'd like to talk to the visitors (through 2-way audio) or unlock the door by clicking alarm-output icon on EagleEyes.
Case 2: Manager Office
Managers who install Push Video IP cameras in their offices can get notifications every time someone enters. This can also be applied in places such as warehouse, which the person in charge needs to control the access.
Case 3: Fire Safety
When the smoke detector activates, you can have the siren go off to alert people to a fire. At the same time, the home owner will get the Push Video within 5 seconds and take immediate action.

Product Selection
Product Picture
Model Number
AVN80X
AVN812
AVN801
AVN805
AVN806
AVN807
AVN808
Max Resolution
1280x1024
1280x1024
1280x1024
1280x1024
1280x1024
1280x1024
1280x1024
Viewing Angle
80.4°
62.7°
62.7°
80.4°
62.7°
80.4°
62.7°
MicroSD Slot
●
○
○
○
○
○
○
WiFi Capability
○
●
○
○
○
○
○
Night View
White LED*1
White LED*1
○
IR LED*12
IR LED*12
IR LED*35
IR LED*12
Human Detection Sensor
●
●
●
●
○
○
●
Microphone
Built-in
Built-in
Built-in
○
Built-in
○
Optional
Speaker
Built-in
Built-in
○
○
○
○
Optional
External Alarm I/O
●
●
●
●
●
●
●
Power Source
5V/ 2A
5V/ 2A
5V/ 1A
12V/ 1A
5V/ 1A
12V/ 1A
5V/ 1A
Need Recording Solution?

AVH306~Easiest Network Video Recorder Ever!

- Plug & Record- No IP configuration necessary
- Local display via HDMI 1920x1080 for monitoring
- Remote access & playback via iOS & Android devices
~ AVTECH ~
E-mail : marketing@avtech.com.tw http://www.avtech.com.tw