| | | | |
| --- | --- | --- | --- |
| | CMS Lite | CMS Plus | CMS Pro |
| Live channels | 32 | 64 | 96 |
| Multiple monitors | 1 | 4 | 8 |
| Smart search | No | Yes | Yes |
| Recording channels | 16 | 16 | 24 |
| Event pop-up | No | Yes | Yes |
| Playback | 1 device | 1 device | 9 channels |
| 3rd-party integration | No | No | Optional |
| Channel Management (NVR / DVR / IP camera) | 128 | 256 | Unlimited |
Access Control System
When worked with the Soyal card reader, the AVTECH CMS can be used for access control. The CMS will show the location of unauthorized access and send Push Video to EagleEyes, allowing you to see who tried to access immediately.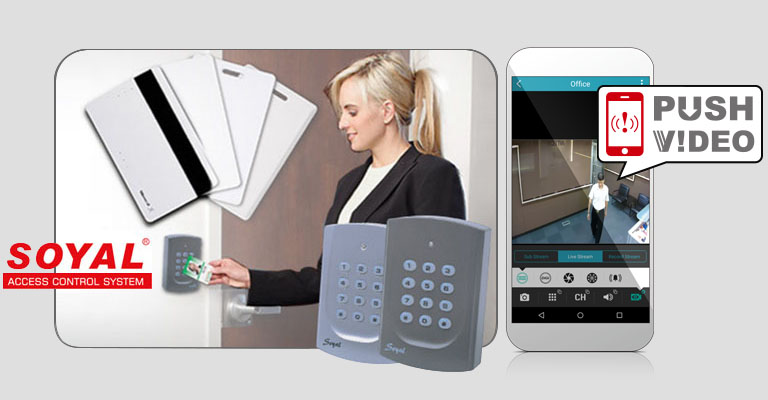 Auto Tracking Solution
Choose the object you want to track first. When the object leaves the field of view of one camera, the calculates its trajectory and determines the camera in front of which the object will appear next. The "potential destination" camera is highlighted in the current layout.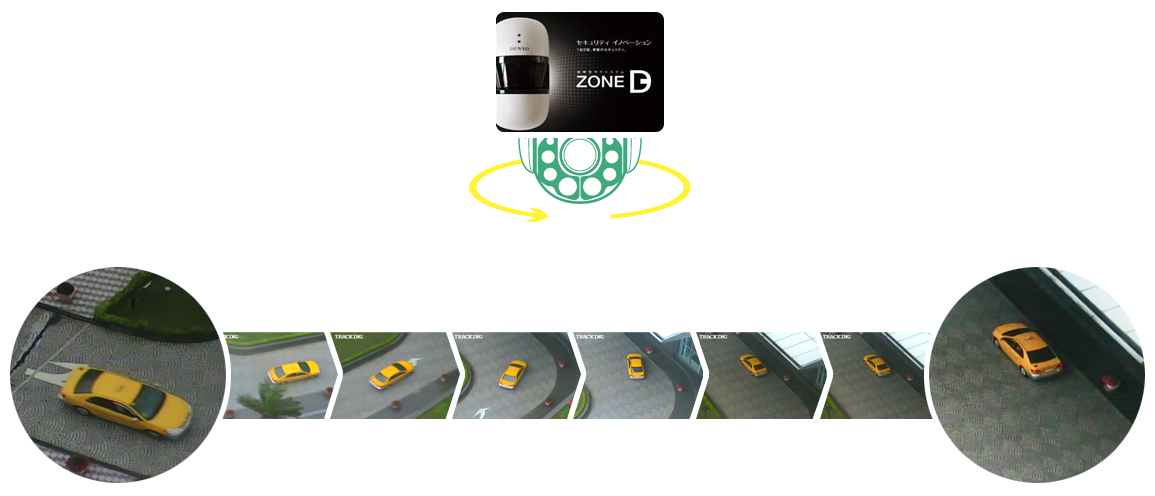 Third-party System Integration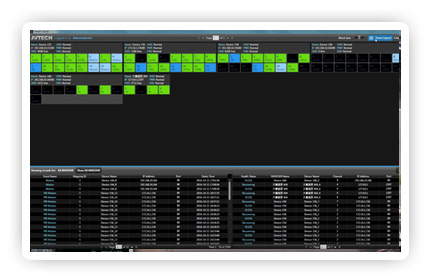 PM2.5, CO2&CO, temperature and humidity status display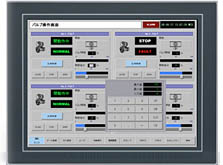 Human Machine Interfaces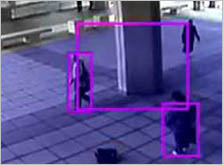 Intelligence Video Surveillance System Integration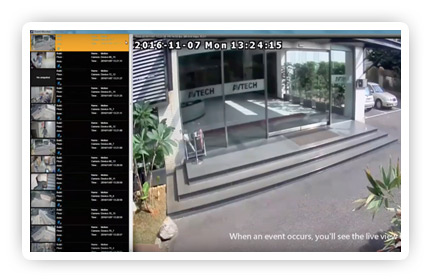 IVS system events pop up on AVTECH event monitor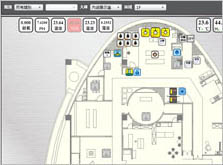 BA System integration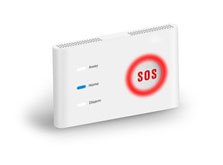 South African customer Alarm system integration (Brand: Listener, WatchManager)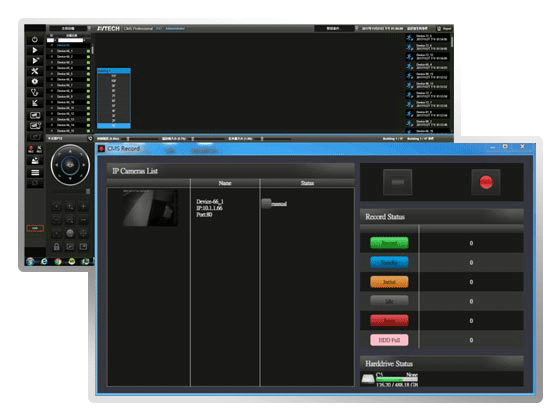 CMS Recorder
Support GPU/CPU Decoding
4-monitor display (VGA, DVI-D and HDMI outputs)
Support for 3rd-party IP devices
Support up to 64-channel video recording
All-in-one solution (Live view, playback, recording, backup, CMS)
Video analysis (AVM5xx series support)
Automatic connection to AVTECH devices
H.265 / H.264 / MJPEG / MPEG4
On-screen LED panel for camera status
Eagleeyes APP access
Multiple (6~8) languages
Failover function
Select a server to act as a hot standby in case of failure of a main server to perform all the functions previously handled by the hardware that is temporarily off-line or malfunctioning.

New Prospect of Surveillance
AVTECH, founded in 1996, is one of the world's leading CCTV manufacturers with more than 20 years of experiences in product innovation, developement and global distribution. In 2018, we're releasing a series of compact but smart surveillance devices to re-define and transform the cold image of video surveillance.
Of course, we're still capable of offering a complete suveillance system to satisfy every demand from single watch to multiple-spot monitoring, from home safety to enterprise access guarding, always stay focused on the move.
Download
We offer three software solutions for you to choose from.
Contact Us
Choose the service you need and we'll contact you asap.
Tell us your comments about AVTECH products to make them better.
Seek for partnership to have a win-win cooperation in your local market.