---
PoC - Lead you to the HD world
Easily Upgrade to IP Surveillance with Coaxial Cable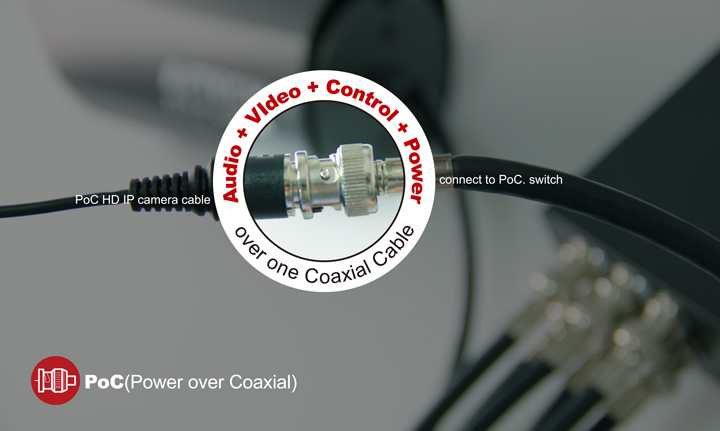 ---
When to Use?
Reducing the costs of upgrading:
With PoC switch, you could upgrade to IP system with the existing coaxial cables for reducing the costs.
Integrated Coaxial Cable
Power, audio, video and RS485 cables are combined for transmitting over one coaxial cable.
Long Distance Solution:
While general IP video transmits for only 100m, AVTECH PoC Converter extends the transmission distance to 200m.
---
PoC Series Products (Power over Coaxial)
AVX912R6 6 Port PoC Switch

Power over Coaxial --
AVX912R6 supports 48V DC power supply to IP cameras through coaxial cables, reaching up to 200M.
Flexible Installation --
Multiple pieces of AVX912R6 can be chained together to expand number of cameras.
PoC IP Cameras
AVP511
AVP521
AVP503
AVP542
AVP552
AVP561
AVP571
AVP583
Strength of IP Camera
WDR (Wide Dynamic Range)
It provides clear images even under back light circumstances where intensity of illumination varies excessively. So, it would be the best solution for the High-Contract Lighting environment.
Solid Light

Advanced Smart Light Control
Adjustable Viewing Angle Brightness
Longer LED Lifetime
E-mail : marketing@avtech.com.tw http://www.avtech.com.tw