| | |
| --- | --- |
| | 2 Megapixel Advanced WDR Series |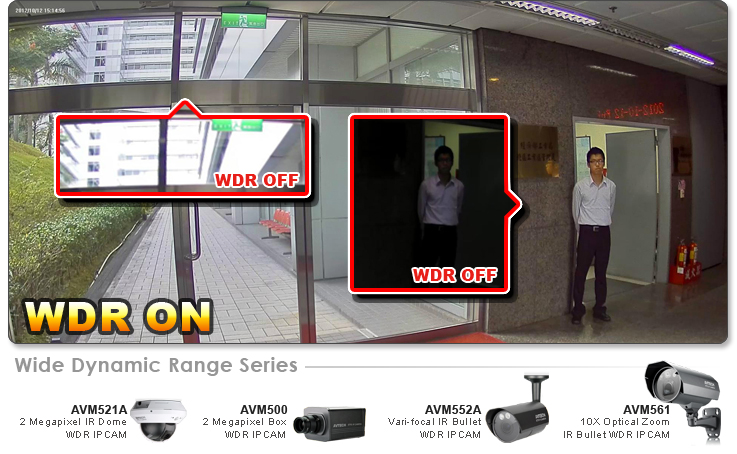 >> Best Solution for High-Contrast Lighting Environment <<
Tunnel
Vehicles entering a parking garage or tunnel, also with daylight outside and low light levels inside.
Car License Plate
During B/W IR mode, WDR function is vital to identify license plate between strong lamps.
Office Building
Surveillance of entrance doors with daylight outside and a darker indoor environment. This is very common in retail shop and building applications.

>> Solid Light <<
Longer IR Effective Distance
Solid Light is able to produce stronger lighting under IR Enhance mode than traditional IR LEDs. It enhances the overall picture brightness and reaches longer distance in a dark environment.
Longer LED Lifetime
Solid Light applies special circuit design to avoid overheat and uses a heat sink to dissipate heat from LED more quickly. LED lifetime can last for 3 years with Solid Light design.
Advanced Smart Light Control
When an object is close to the camera during night time, Solid Light will sense it and automatically control the amount of light to avoid over-exposure.
Watch demo video clip on Youtube
>> Product Selection <<
Product Picture

Model Number
AVM521A
AVM500
AVM552A
AVM561
Max Resolution
1920x1080
1920x1080
1920x1080
1920x1080
Lens
f3.8mm / F1.5
N/A
f2.8~f12mm / F1.4~F2.8
f6.0~f60mm / F2.0~F2.8,
10x Optical Zoom,Auto Focus
Solid Light LED
1 unit
N/A
2 units
3 units
IR Effective Range
Up to 15m
N/A
Up to 35m*
Up to 60m*
Audio
Line-in, Line-out
Built-in Mic,
Line-in, Line-out
No
No
MicroSD Card Slot
Yes
Yes
Yes
No
External Alarm I/O
Yes
Yes
Yes
Yes
PoE (IEEE802.3af)
Yes
Yes
Yes
Yes
Power Source
12V / 1A
12V / 1A
12V / 1A
12V / 1.5A
Operating Temperature
0°C ~40°C
0°C ~40°C
-20°C ~40°C
-20°C ~40°C
* measured when IR enhance mode is on.